RESIDENTIAL ENERGY TESTING SERVICES
Our energy experts specialize in all aspects of making buildings run more efficiently - including HERS Rating certification.
HVAC Load Calculator. Simple Manual J Calculation
The Home Energy Rating System (HERS) Index is the industry standard for measuring a home's energy efficiency and the nationally recognized system to inspect and calculate a home's energy performance. We are certified HERS Raters, according to the Residential Energy Services Network (RESNET).
THE HERS RATINGS PROCESS...
Develop a projected HERS Index score
The first step of our process is to assess the architectural plans to develop a projected HERS rating. This can be used as a benchmark during the entire project to minimize deviations that may lead to wasted resources.
Air Seal: Inspect for air leaks
The first step of our onsite inspection is to see if there are any irregularities air leaks can quickly pop up, which can cause further challenges throughout the construction process. We ensure there are no potential risk areas that may decrease the energy efficiency of the home over time.
Thermal Bypass Checklist (Insulation inspection)
The Thermal Bypass Inspection Checklist must be completed for homes to earn the ENERGY STAR label. The Checklist requires visual inspection of framing areas where air barriers are commonly missed and inspection of insulation to ensure proper alignment with air barriers, thus serving as an extra check that the air and thermal barriers are continuous and complete.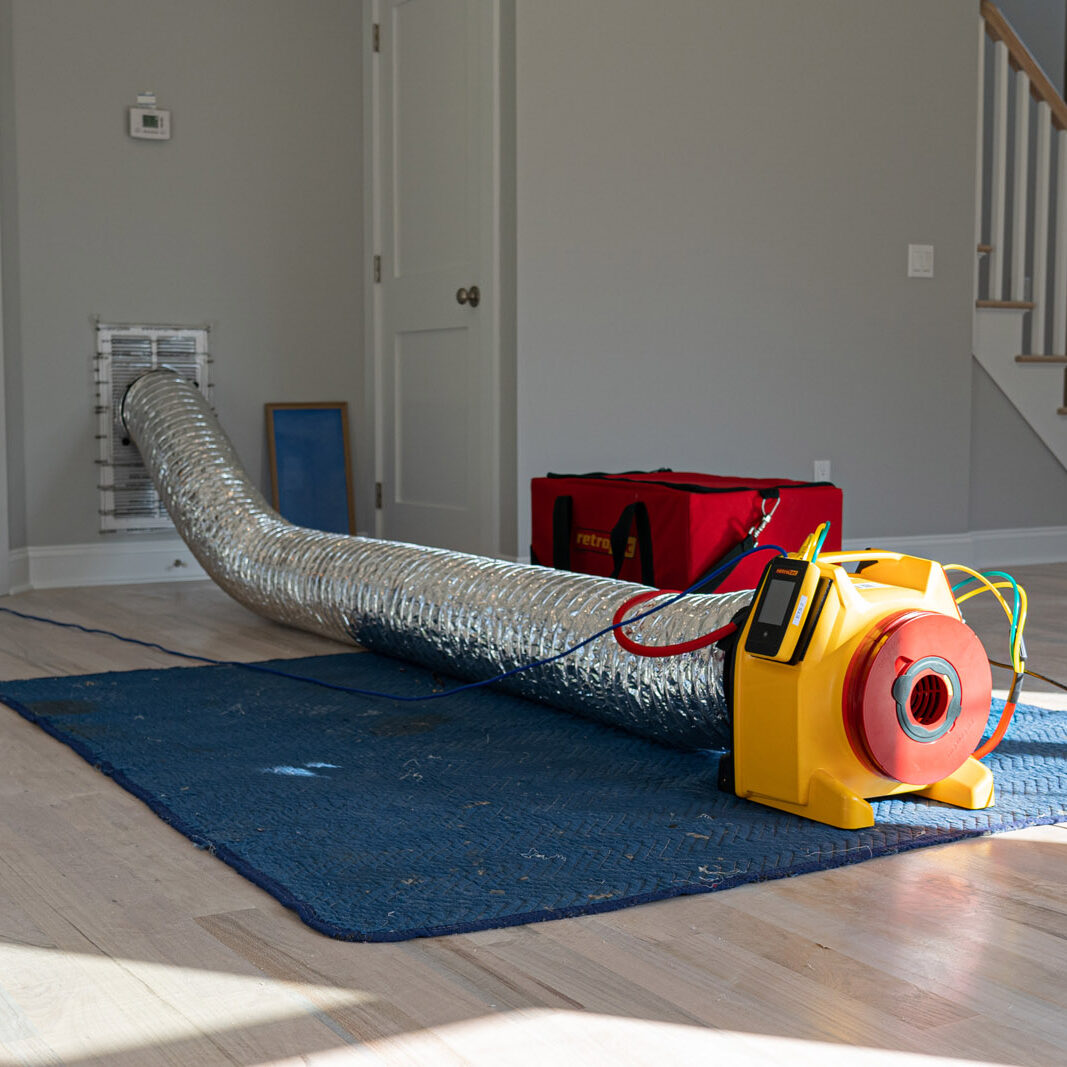 Over time buildings can suffer from duct leakage, which can reduce the efficiency of your HVAC system. We test the pressure of your ducts to ensure everything is running smoothly.
Blower Door Test / Whole
House Infiltration Testing
Do you need to test for air tightness for energy certification or simply to ensure your system is running correctly? We offer blower door / infiltration tests and identify potential problem areas.
Combustion
Safety Testing
Combustion safety testing is part of regular HVAC maintenance. A certified HVAC technician will come to the home to verify that all combustible appliances are working properly and have necessary ventilation.
In addition to visual inspection, we also use infrared thermography to see what our eyes can't - temperature changes within your home. This helps to identify problem areas.
Home Assessments /
Home Energy Tests
We also provide you a comprehensive report for entire home energy tests, including duct pressurization test, blower door test, combustion safety testing, and infrared thermography.
Selecting and installing a residential HVAC system requires technical expertise to ensure the most efficient service possible. We guide you according to the required Manuals J, S, and D.
QUICK TURNAROUND,
EXPERT GUIDANCE
Energy Testing Services is a certified RESNET HERS Rater, as well as Certified Residential Energy Inspector/Plans Examiner. We specialize in new home energy ratings, testing, inspections, and planning. Since our founding over 15 years ago, we've worked closely with many clients, including contractors, architects, and homeowners to ensure that every building is running at maximum efficiency possible.
We take a holistic approach to not only provide superior customer service and results, but also to ensure that you will save money in energy costs for years to come. You can rest assured that when working with our team at Energy Testing Services you're in great hands.
PROUDLY SERVING
ALL OF LONG ISLAND
From our base in Bohemia, NY we proudly offer services throughout all of Long Island.
If you need professional energy testing services look no further than the expert team at Energy Testing Services today! Please use the form below to contact us for your residential energy certification and testing needs. We're looking forward to hearing from you.